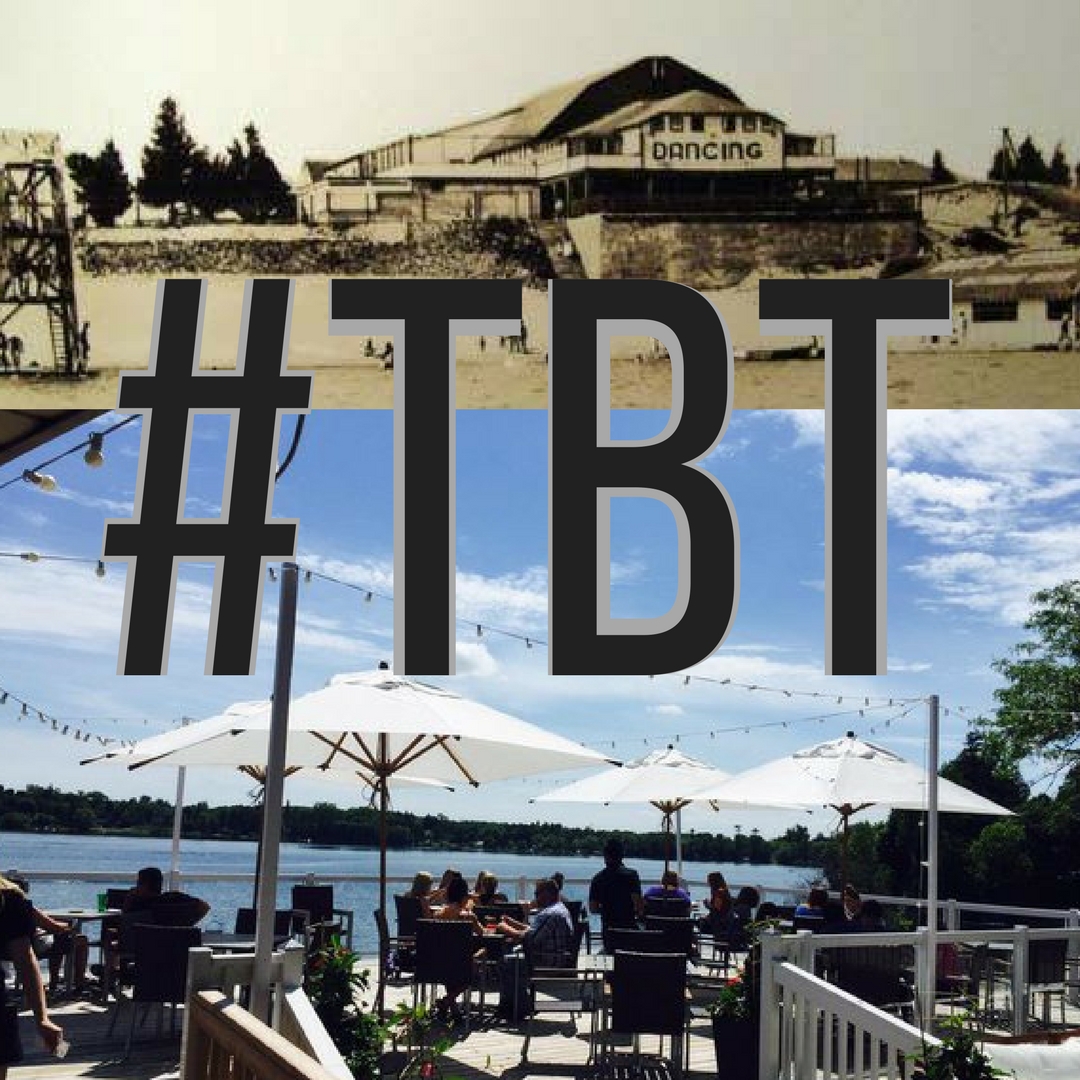 My Favourite Stouffville Spots – Musselman's Lake
There's a lot to love about Stouffville, but one of my absolute favourite places is Musselman's Lake, specifically Fishbone by the Lake! So since today is #throwbackthursday I thought I would do a little research on the history of that area. (*edit: initially this was going to be like 1 paragraph but I got a little into it, so there you go, if you're just here for my super in depth review of Fishbone on the Lake, scroll to the bottom)
Going wayyyyy back, the lake was originally formed over 12,000 years ago when the glaciers that covered most of North America melted. As the glaciers melted, large pieces of ice were left in the ground which eventually melted as well but the process formed large kettle depressions, some of which would fill and hold water and form a kettle lake. For the kettle lake to remain an actual lake, they need delicious ground water and surface run off, which through modern day developments and progress and blah blah can pose a problem. BUT – problem solved – we got two large pipelines feeding off of sub divisions and road drains that keep Musselman's lake all watery and robust.
Post glacier melting who knows what was going on so I'll jump ahead thousands of years and the beautiful community was all rolling hills, crystal clear lakes and dense virgin forests. For hundreds of years Native Canadians would stop over at little ole' Musselman's Lake while travelling between the bigger and badder Lakes Ontario & Simcoe. Apparently Native Canadian artifacts have been found all in and around the area.
THEN, in 1807, some Mennonites from Pennsylvania settled in the area. Their last name was MUSSELMAN (hence the name, duh) Peter & Jacob bought a bunch of land on the West side of the lake and William bought some land in Lemonville. I'm thinking maybe William was the black sheep and/or rebel of the family.
So at this point the lake's job was mainly to provide water for a steam driven saw mill, the area was still surrounded by lush, dense forest but they made quick work of that. The process of clear cutting around the saw mill, combined with stripping surrounding forests for lumber to build homes pretty much destroyed any forest areas left over.
The sawmill was on the property of a dude named Charles Appleton, whose original home is actually still standin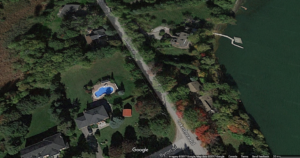 g and is located on the north side of Lakeshore Road just north of Byron Street. I tried to locate it, but didn't want to post a pic of the wrong house and if someone's living there didn't want to put their business all up on here, so here is the best I could do – a screenshot of Google maps, his was probably the one with the pool.
AND there was apparently a note on the death register saying that he was the inventor of the Appleton fire ladder, used on fire trucks. (Not sure how reliable that information may be though, even the website I got it from seemed doubtful)
http://www.rootsweb.ancestry.com/~onyork/tshp_whitchurch_stouffville.html
Ok so that was the 1800's.
"In the early to mid 1900's Musselman's Lake was the entertainment capital of Southern Ontario."
That's a direct quote from www.musselmanslake.com
"Cedar Beach on the north side, Glen Baker Hall on the south held weekly concerts and dance's that drew people from miles around."
Another direct quote, I'm losing steam here, so here's another one:
"The first plans for a residential cottage community were filed in 1912. Cedar Glen was erected on the South side of the lake, later to be called Glendale beach and destroyed by fire in 1928. It was originally home to the Glen Baker Hotel and Dance Hall was built in the late 19th century. Like so much of the architectural history that surrounds us it was destroyed by fire in 1928. In its place one of the largest dance halls in the country was built, then closed in the 1970's and torn down in 1990."
THE LARGEST DANCE HALLS IN THE COUNTRY! I don't know if that says something about Canada's dance hall scene or if it really was a completely epic dance hall. Either way, good for you Musselman's Lake.
Even more interesting is the outlaw scene.
Musselman's proximity to Toronto made it a great spot for laying low for motorcycle gangs and bank robbers.
Some famous bank robbers who hid out there include the Boyd Gang, who according to Wikipedia were a notorious criminal gang from Toronto who got a ton of media coverage because of their daring bank robberies, jail breaks, beautiful women and gun fights. One time, they broke out of jail using a hacksaw concealed in an artificial leg!!
Then there was lots of progress when a guy named George Davies Sr. bought a bunch of land a built a Pavilion in 1929, yadda, yadda, yadda, by the 1960's the population doubled and it became more of a summertime tourist destination with the opening of the area trailer parks.
Some good news is that since the community is situated on the top of Oak Ridges Moraine, it has recently been protected from development by the Government of Ontario.
Now there is a lovely place called Fishbone by the Lake, they've got a beautiful patio overlooking the lake and SUCH delicious food. Try the brussel sprouts, they are amazing. Also try the shrimp linguine, and the pizzas and the burgers. The desserts are really good too. I never thought a small town would have so many delicious, bistro style restaurants with actual, delicious food made by chefs. I've got nothing against greasy spoons or the occasional chain restaurant but it can be difficult to find an amazing restaurant with a well-thought out menu, good service and beautiful atmosphere. Go to the fishbone and tell me you don't feel like you're on vacation somewhere. It's got the feel of a high end downtown Toronto bistro and the charm and beauty of small town Ontario. I loooove it.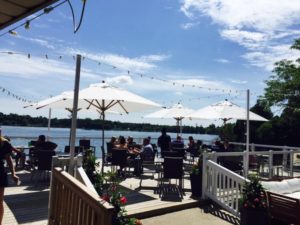 They are open seasonally and weather permitting Monday to Sunday 11:30-9, they take reservations and here's their website: /http://fishbonebistro.ca/by-the-lake/
If the weather is not cooperating, they have other locations as well, one on Stouffville Main Street and one in Aurora
There is also a band called fishbone which I'm sure is lovely, but if you get lost on google somehow just type in fishbone bistro, or follow the handy links I provided.
One last bit of info, here is a list I got from Wikipedia of the types of fish that have been found in the lake:
Northern Pike
Large Mouth Bass
Rock Bass
Sunfish (Centrarchidae)
Crappie
Suckers
Channel catfish
Perch (Yellow perch)
My favourite are Crappies and Suckers.